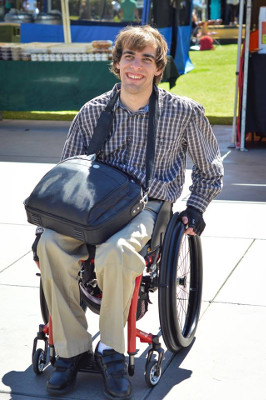 Author's Note: This is a dating profile I wrote for Okcupid. This page is for historic purposes at this point. I don't really use their services anymore. But I believe my old profile was sufficiently well written that it is worth preserving.
---
I am my best self when I am fulfilling an urge to satisfy my curiosity, whether that curiosity manifests in studying for my Masters of Public administration, exploring the nooks and crannies of downtown Los Angeles, or just spending the afternoon coding. I developed a voracious appetite for reading by starting late, then needing to make up for lost time. So whether you want to talk about the finer points of Alan Watt's "Way Beyond the West", or you just need to know how to get your damn router fixed, I'm your man!
Obviously, there is a plague stalking the world right now, so like everybody else I am cooped up at home for the moment, being a good citizen and minding my social distancing. But don't think for a minute that this is my normal. Despite the fact that I have a diagnosis of cerebral palsy, I take great pride in the fact that I get out on my own alot. I am chomping at the bit for some new adventures once the world reopens, whether they involve going to a jazz concert, spending a quiet afternoon at a museum, or just searching out the latest trendy coffee joint. These moments are what make life sparkle for me, and I am looking for someone to revel in them with.
So stay a while, and let's chat! Adventure is but a single date away!
Current Goals
Finishing my Master's Degree, then getting work at my Alma Mater ( Go Lions!), then establishing myself in a downtown studio apartment somewhere somewhere & traveling as life permits
My perfect day
For me, the perfect day starts the night before. I go to bed early, I fall asleep without too much trouble and then I wake up at 6 in the morning and I'm ready by 7:30. I find that all of my best days start when my day cycle is more or less aligned with the Sun. Mind you, I am not naturally an early riser. But I love the quiet of the early mornings and the sense of peace I get when I drift off to sleep without burning the midnight oil.
My Partner Should Be
Kind, intellectually curious, not (currently) addicted to any harmful substances.
I Spend a lot of time thinking about…
Where I will go to (eventually) celebrate the end of quarantine, which museums I have yet to reach in the LA Area, wishing I could travel north by train on the adventure of a lifetime before a job nails me down.
My Biggest Regret
I wish I had learned to use Public Transit by the time I turned 18. When I finally did (much later), it was such a transformative experience! It has also led to some Hairy Adventures! Go ahead, ask me! I can talk about this for hours.
What I'm Actually Looking For
A free spirit to bend some of my straight edges. Somebody I can truly share life with. It is important to appreciate the moment, but it is also important to plan for tomorrow. We will all grow old someday, and I want to grow old knowing that I found somebody to share in at least a a few of those moments with.
The most exciting place I've ever been
I visited Austria and Northern Italy in 2016. I brought exactly one backpack worth of supplies. I normally travel light, but this was the lightest I had ever traveled .
Best Movie of all time
Inception. It had an ending that makes you go "AAAAHHHHHH!", and then vigorously start applauding Christopher Nolan's Brilliance! Having a soundtrack composed by Hans Zimmer certainly doesn't hurt either.
Generally speaking, I like movies that have a labyrinth-like plot, capped by a big reveal.
Best Netflix Original series, hands down:
Altered Carbon
My Favorite game to play with friends
0 AD is my go-to game for playing with friends. If you are an Age of Empires 2 fan, think of that, but with a slightly more detailed ruleset. Be warned, I typically play Romans, and if I have the opportunity to reach Siege capability, I will crush you underneath the wheels of my battering rams. For the glory of the Republic, of course. E Plurabus Unam!
My favorite concert venue
LACMA Pavilion. It's outdoors, so you can enjoy a gentle breeze. Outdoor restaurants are literally across from the seating area and they feature some of the best free jazz on offer in Los Angeles.
Favorite Feminist icon
Dr. Lindsey Doe! Her happiness and zest for life is absolutely infectious! She puts out alot of interesting (and useful) content about how to better accept ourselves.
The Director I want to re-make Dune
James Cameron. He did an amazing job at world building with Avatar, and I believe he would be a good choice for a world that is as rich as the Dune universe.